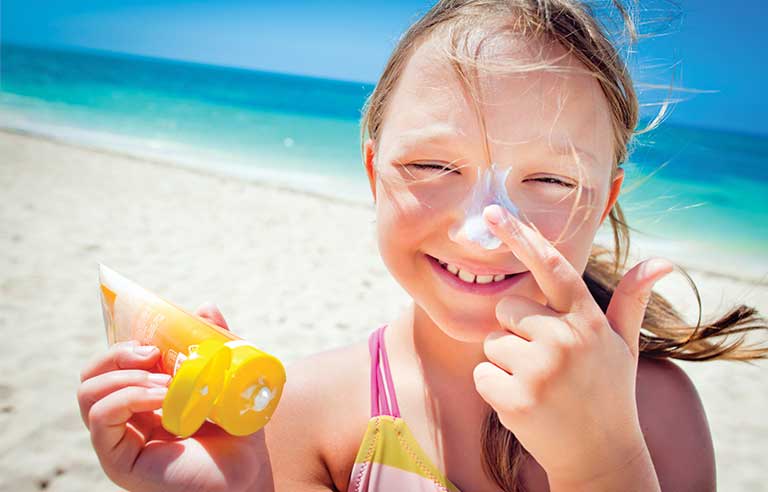 Sunscreen Tips
The school year is drawing to a close, and many families are planning their summer vacations. Wherever your vacation plans take you, the beach, a theme park or enjoying time outside close to home, the sun is everywhere, and proper precautions need to be taken by every member of your family.
Skin cancer is the most common type of cancer in the United States. Ultraviolet (UV) radiation from the sun is the main cause of skin cancer. UV damage can also cause wrinkles and blotches or spots on your skin. The good news is that skin cancer can be prevented, and it can almost always be cured when it's found and treated early.
Sunlight consists of two types of harmful rays that reach the earth — UVA rays and UVB rays. Overexposure to either can lead to skin cancer. In addition to causing skin cancer, here's what each of these rays does:
UVA rays (or aging rays) can prematurely age your skin, causing wrinkles and age spots, and can pass through window glass.
UVB rays (or burning rays) are the primary cause of sunburn and are blocked by window glass.
The United States Department of Health & Human Services and the World Health Organization's International Agency of Research on Cancer have declared UV radiation from the sun and artificial sources, such as tanning beds and sun lamps, as a known carcinogen (cancer-causing substance). 9
There is no safe way to tan. Every time you tan, you damage your skin. As this damage builds, you speed up the aging of your skin and increase your risk for all types of skin cancer.
So how do you protect your skin?
The best ways to reduce your risk of skin cancer and protect your skin include:
Stay out of the sun as much as possible between 10 a.m. and 4 p.m.
Cover up with long sleeves and a hat.
Check your skin regularly for changes.
Use sunscreen with SPF 30 or higher.
Apply sunscreen at least 30 minutes before you go outside.
Put on sunscreen every 2 hours and after you swim or sweat.
Dermatologists recommend using a sunscreen with an SPF of at least 30, which blocks 97 percent of the sun's UVB rays. Higher-number SPF block slightly more of the sun's UVB rays, but no sunscreen can block 100 percent of the sun's UVB rays.
It is also important to remember that high-number SPF last the same amount of time as low-number SPF. A high-number SPF does not allow you to spend additional time outdoors without reapplication. All sunscreens should be applied approximately every two hours or according to time on the label, even on cloudy days, and after swimming or sweating.
Spray Sunscreen Tips
The FDA continues to evaluate the safety and effectiveness of spray sunscreens. The challenge in using sprays is that it is difficult to know if you have used enough sunscreen to cover all sun-exposed areas of the body, which may result in inadequate coverage. When using spray sunscreen, make sure to spray an adequate amount and rub it in to ensure even coverage.
To avoid inhaling spray sunscreen, never spray it around or near the face or mouth. Spraying the sunscreen into your hands and then applying it can help you avoid inhalation while also ensuring adequate coverage. When applying spray sunscreens on children, be aware of the direction of the wind to avoid inhalation.
Protecting Young Children
Ideally, parents should avoid exposing babies younger than six months to the sun's rays.
The best way to protect infants from the sun is to keep them in the shade as much as possible, in addition to dressing them in long sleeves, pants, a wide-brimmed hat, and sunglasses. Make sure they do not get overheated and that they drink plenty of fluids. If your baby is fussy, is crying excessively or has redness on any exposed skin, take him or her indoors.
Sunscreen use should be avoided if possible in babies younger than six months.
Parents of infants and toddlers six months and older may apply a broad-spectrum, water-resistant sunscreen with an SPF of 30 or higher to their children's exposed skin that is not covered by protective clothing, according to the instructions on product label. The sunscreen should be reapplied approximately every two hours, or as often as the label says. Sunscreens that use the ingredients zinc oxide or titanium dioxide or special sunscreens made for infants or toddlers may cause less irritation to their sensitive skin.
At Neighbors Pharmacy we offer several types of sunscreen. For help choosing the right one for your family, stop by and speak with our pharmacists.